Nubians
Mega-Milkers Classic Showdown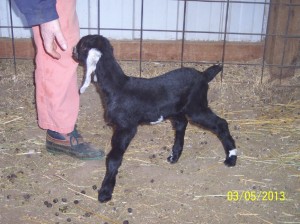 Sire: Desert-Caper Classic Tradition +*B
Dam: Mega-Milkers L-O-L-A Lola
Showdown is a large, powerful doe.  She has an extremely long body and long, level hips.  Showdown is bred and will kid in April.  She is following in the tradition of all of our Classic daughter, having great size, capacity, and general appearance.  Showdown also has lovely Nubian characteristics just like her dam.  Lola won her first Best Doe in Show in 2013 and we see a lot of the same beauty in Showdown.
Mega-Milkers Moon River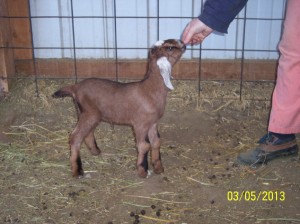 Sire: Six-M-Galaxy August Moon
Dam: SGCH Mega-Milkers Uptown Girl 6*M
River is a showie doe who has the grace and beauty of her mother.  River is very dairy and we are looking forward to seeing the capacity and quality of mammary from her sire Augie.
Mega-Milkers MoonShine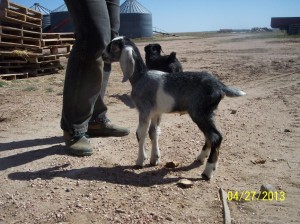 Sire: Six-M-Galaxy August Moon
Dam: Mega-Milkers Mariska Lunesta
Shine is a flashy kid that we could not resist keeping!  We don't usually retain kids out of first fresheners but Shine came out and we knew she had to stay in our herd.  Shine looks a lot like her sire, Augie, so we see great dairy character and breed characteristics.
Saanens
Mega-Milkers Bravo Applause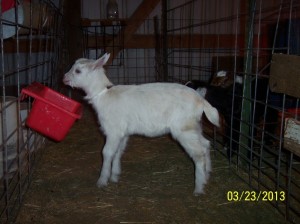 Sire: Ranea Bravo
Dam: Mega-Milkers Isle of Palin
Applause is a very large, powerful Saanen.  She has the most long, level hips and lean, dairy neck.  Applause was born with great body capacity and continues to mature into a lovely doe.  She was immediately an eye catching kid and has maintained her show stopping qualities as she goes.
Mega-Milkers Coda by Design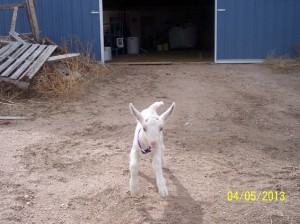 Sire: Mega-Milkers PVT Design Label
Dam: Mega-Milkers Y-Nota Fermata
We can't say enough about Coda!  She is the perfect mix of power, milk, and beauty.  Design has thrown some really pretty does that show extremely well and Fermata is a very strong milker.  Coda is a mix of those characteristics and we are so pleased with this dairy, capacious doe.
Mega-Milkers Cotton Jenny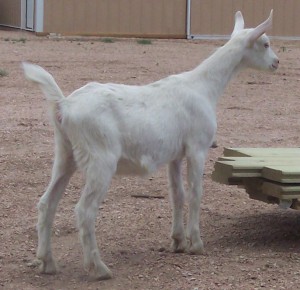 Sire: GCH Mega-Milkers Cockeyed Optimus
Dam: SGCH The Mega-Milkers Sugar Shack
Jenny is our last kid out of Sugar Shack before she passed away.  Jenny came to us late in the year but she has been well worth the wait.  Jenny takes after her dam with gorgeous breed character.  Optimus has thrown great milk production so we expect Jenny to follow in that trend.  Jenny is bred this year to kid in April.