Nubians
Mega-Milkers MoonShine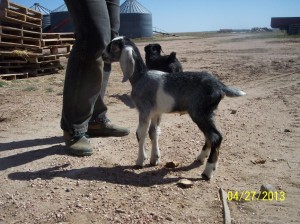 Sire: Six-M-Galaxy August Moon
Dam: Mega-Milkers Mariska Lunesta
Shine is a flashy kid that we could not resist keeping!  We don't usually retain kids out of first fresheners but Shine came out and we knew she had to stay in our herd.  Shine looks a lot like her sire, Augie, so we see great dairy character and breed characteristics.
Saanens
Mega-Milkers Cotton Jenny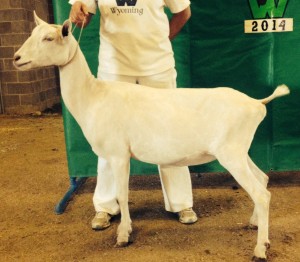 Sire: GCH Mega-Milkers Cockeyed Optimus
Dam: SGCH The Mega-Milkers Sugar Shack
Jenny is our last kid out of Sugar Shack before she passed away.  Jenny came to us late in the year but she has been well worth the wait.  Jenny takes after her dam with gorgeous breed character.  Optimus has thrown great milk production so we expect Jenny to follow in that trend.
Show Wins
* 1 GCH