*2017 Amarillo Tri-State Fair Premier Saanen and Nubian Breeder and Exhibitor
*2017 Amarillo Tri-State Fair Reserve Champion Saanen – Jenny x 2
*2017 Amarillo Tri-State Fair Best of Breed Nubian – Fern x 2
*2017 Amarillo Tri-State Fair Best of Breed Saanen – Condeleesa x 2
*2017 Amarillo Tri-State Fair Grand Champion Saanen – Condeleesa x 2
*2017 Amarillo Tri-State Fair Reserve Champion Nubian – Cubes x 2
*2017 Nebraska State Fair Best Udder in Show – Jenny
*2017 Nebraska State Fair Grand Champion Saanen – Jenny
*2017 Wyoming State Fair Grand Champion Nubian – Showdown X 2
*2017 Wyoming State Fair Reserve Champion Nubian – Ice Cube
*2017 Wyoming State Fair Reserve Champion Saanen – Jenny
*2017 WDGA Fuzzy Grand Champion Nubian – Ice Cube
*2017 WDGA Fuzzy Reserve Champion Nubian – Lunesta
*2017 Colorado Goat Extravaganza Grand Champion Saanen – Intensity X 2
*2017 Colorado Goat Extravaganza Reserve Champion Nubian – Showdown
*2016 Amarillo Tri-State Fair Grand Champion Saanen – Jenny
*2016 Amarillo Tri-State Fair Best in Show (Youth Show) – Jenny
*2016 Amarillo Tri-State Fair Best of Breed Saanen – Comedy
*2016 Amarillo Tri-State Fair Best of Breed Saanen – Condeleesa
*2016 Amarillo Tri-State Fair Grand Champion Saanen – Condeleesa
*2016 Amarillo Tri-State Fair Grand Champion Nubian – Fern
*2016 Wyoming State Fair Grand Champion Nubian – Showdown
*2016 Wyoming State Fair Reserve Champion Nubian – Ice Cube
*2016 Wyoming State Fair Reserve Champion Saanen – Jenny
*2016 Wyoming State Fair Grand Champion Saanen – Condeleesa X 2
*2016 WDGA Fuzzy Best Doe in Show – Jenny
*2016 WDGA Fuzzy Best Udder in Show – Jenny
*2016 WDGA Fuzzy Best Junior Doe in Show – Intensity
*2016 WDGA Fuzzy Grand Champion Saanen – Jenny X 3
*2016 WDGA Fuzzy Reserve Champion Saanen – Jenny
*2016 WDGA Fuzzy Grand Champion Junior Saanen – Intensity
*2016 WDGA Fuzzy Grand Champion Junior Saanen – Cheers
*2016 WDGA Fuzzy Reserve Champion Junior Saanen – Intensity
*2016 WDGA Fuzzy Grand Champion Nubian – Showdown x 2
*2016 WDGA Fuzzy Grand Champion Nubian – Ice Cube
*2016 WDGA Fuzzy Reserve Champion Nubian – Lola
*2016 Colorado Goat Extravaganza Best Udder in Show – Condeleesa
*2016 Colorado Goat Extravaganza Grand Champion Saanen – Condeleesa
*2016 Colorado Goat Extravaganza Reserve Champion Nubian – Showdown
*2016 Colorado Goat Extravaganza Reserve Champion Nubian – Lola
*2015 Amarillo Tri-State Fair Premier Exhibitor Nubian & Saanen
*2015 Amarillo Tri-State Fair Best of Breed Nubian – Uptown x 2
*2015 Amarillo Tri-State Fair Grand Champion Saanen – Comedy
*2015 Amarillo Tri-State Fair Reserve Champion Nubian – Lola
*2015 Amarillo Tri-State Fair Reserve Champion Nubian – Ticket
*2015 Colorado State Fair Premier Exhibitor Nubian & Saanen
*2015 Colorado State Fair Best Udder of Show – Uptown
*2015 Colorado State Fair Best of Breed Nubian – Uptown x 2
*2015 Colorado State Fair Grand Champion Nubian – Fern x 2
*2015 Colordo State Fair Reserve Champion Saanen – Ovation
*2015 Wyoming State Fair Premier Exhibitor
*2015 Wyoming State Fair Grand Champion Saanen – Ovation
*2015 Wyoming State Fair Reserve Champion Saanen – Comedy
*2015 WDGA Fuzzy Show 1st Place Saanen Dairy Herd
*2015 WDGA Fuzzy Show 1st Place Nubian Dairy Herd
*2015 WDGA Fuzzy Show Best Udder of Breed – Ticket
*2015 WDGA Fuzzy Show Grand Champion Junior Nubian – Ice Cube
*2015 WDGA Fuzzy Show Grand Champion Saanen – Comedy
*2014 Wyoming State Fair Reserve Champion Nubian – Ticket
*2014 Wyoming State Fair Grand Champion Junior Saanen – Jenny
*2014 Wyoming State Fair Grand Champion Saanen – Condeleesa
*2014 Wyoming State Fair Reserve Champion Saanen – Comedy
*2013 Tri-State Fair Premier Nubian Breeder/Exhibitor
*2013 Tri-State Fair Premier Saanen Breeder/Exhibitor
*2013 Tri-State Fair Best Doe in Show – Lola
*2012 ADGA National Show – 8 does in the top 20
* 2012 WDGA Fuzzy Show Best Doe in Show – Arrogance
* 2012 Tri-State Fair Nubian Specialty
– 1st Place Dairy Herd
– 1st Place Dam & Daughter
– 1st Place Breeders Trio
– 1st Place Produce of Dam
*2012 Tri-State Fair Premier Nubian Exhibitor
*2012 Tri-State Fair Premier Nubian Breeder
* 2012 Wyoming State Fair 1st Place Saanen Dairy Herd
* 2012 Wyoming State Fair 1st Place Nubian Dam & Daughter
SGCH Mega-Milkers Cotton Jenny 9*M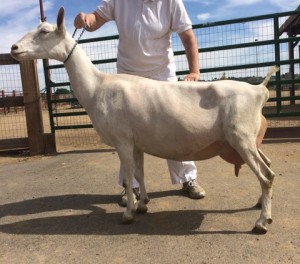 Jenny is a tall, long, and extremely correct doe.  She has a securely attached udder with a high rear, strong lateral, and smooth fore.  Jenny is very productive.
Show Wins
* 6 GCH
* 5 BOB
* 3 RGCH
* 2 BIS
* 3 BUIS
* 2016 LA 90 EEEV
* 2018 LA 90 VEEV
GCH Mega-Milkers Isle of Intensity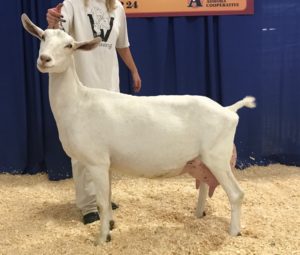 Intensity is a two year old first freshening, who finished her Championship at her first show in 2017.  She has a large and capacious mammary with a powerful smooth body.
Show Wins
* 8 GCH
* 1 BIS
* 1 BUIS
* 2 BOB
* 1 RGCH
* 2016 LA V+VV
* 2018 LA VEEE 91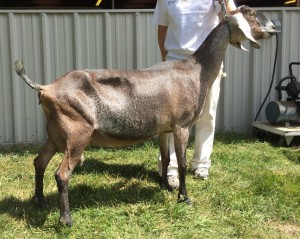 Fern has lovely general appearance and great dairy strength. She has long level hips and a well attached udder.  Fern is elegant and feminine in the show ring.   G6S Normal
Show Wins
*2016 LA 89 VVVV
*3 GCH
*3 BOB
Mega-Milkers Mariska Lunesta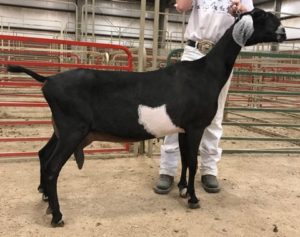 Lunesta came back to us as a second freshening 5 year old and we are so pleased to have her back.  She is super long and powerful with a lovely mammary. G6S Normal
Show Wins
* 2 GCH
* 2 BOB
* 1 RGCH
* 2018 LA VEVV 88
GCH Mega-Milkers Classic Showdown 4*M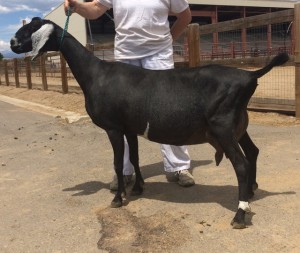 Showdown is another long and tall doe.  She has extremely correct feet and legs with a very pleasing mammary.  Her udder is wide in the rear and full in the fore.  Showdown is also very productive and has beautiful Nubian characteristics.  G6S Normal
Show Wins
* 7 GCH
* 1 RGCH
* 2016 LA 88 EEEV
* 2018 LA 89 EEE+
GCH Mega-Milkers Look an Ice Cube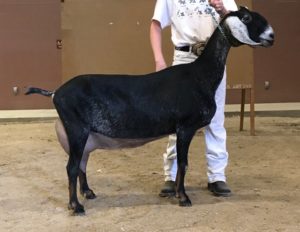 Cubes is a power-house Nubian.  She is deep in the girth and wide in the chest floor.  Cubes has wide, flat hips and a productive udder.
Show Wins
* 4 GCH
* 2 BOB
* 5 RGCH
*2016 LA 86 VVVV
*2018 LA 90 VEEE
SGCH Mega-Milkers Mariska AI 2*M  Retired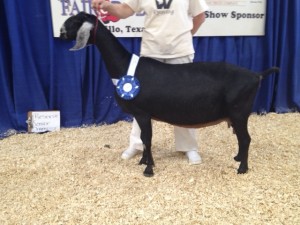 Mariska extremely long bodied, angular, level and deep without being coarse. She has a high, wide, well attached rear udder with extending foreudder.
G6S Normal
DHIR Milk Record
3 year old 2330
4 year old 2450
5 year old 1920
6 year old 1540
Show Wins
* 2007 Nationals 16th 2 yr old
* 2012 Nationals 14th aged doe
* 2010 LA 91 VEEE
* 7 RGCH, 4 GCH, 8 BOB, 6 BU, 3 BIS
* 2012 Nubian Specialty Reserve Champion Nubian
 SGCH Mega-Milkers Uptown Girl 3*M Retired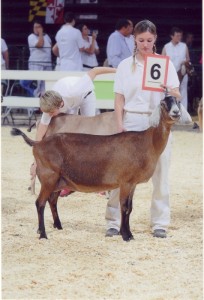 Uptown is an amazing doe, picking up all the wonderful qualities of her dam plus a capacious udder and beautiful breed character.  Uptown finished her Championship in 2011 and continues to dominate the show ring.  She has continued to be very productive even as she ages and produces lovely kids.
G6S Normal
DHIR Milk Record
1 yr old 1000
2 yr old 2090
3 yr old 1570
Show Wins
* 2012 LA 91 EEEE
* 1 RGCH, 5 GCH, 7 BOB, 4 BU, 1 BIS, 1 BUIS
SG Mega-Milkers HP L-O-l-A Lola 3*M Retired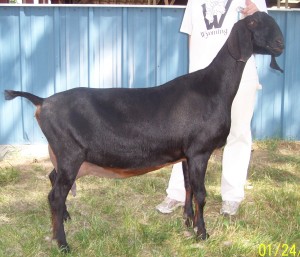 Lola is a doe with excellent breed character, smoothness of blending and superb body capacity .  Lola exhibits dairy strength throughout as well as an extremely well attached mammary.  She has a smooth, long fore udder.  G6S Normal
DHIR Milk Record
1 yr old 1070
2 yr old 1330
Show Wins
* 2012 LA 90 EEEV
* 2014 LA 90 EVEV
* 2012 Nationals 21st 3 yr old (40 in class)
* 5 RGCH, 2 GCH, 1 BIS
SGCH The Mega Milkers Sugar Shack *8M 
Sire: Crybaby Farms NF Saki's Toji *B
    Sire's Sire: SG Washoe-Zephyr No Fear +*B
    Sire's Dam: GCH Crybaby Farms Some Saki 6*M
Dam: SGCH Mega-Milkers Scimitar Nietzche 7*M
    Dam's Sire: Talache's Glacier AI *B
    Dam's Dam: Mega-Milkers Scimitar Arza 6*M
SGCH Mega Milkers Pure Arrogance 9*M
Sire: SGCH Lake-Country Romantic Scimitar +*B
    Sire's Sire: GCH Two-Ceders CC Joshua AI ++*B
Sire's Dam: Lake-Country Ole Surprise 6*M
Dam: SGCH Mega-Milkers Sugar Shack 8*M
Dam's Sire: Crybaby Farms N.F.Saki's Toji *B
Dam's Dam: SGCH Mega-Milkers Scimitar Nietzche 7*M
Mega Milkers No Drama 9*M
Sire: SG Washoe-Zephyr No Fear +*B
Sire's Sire: Companeros Cascade Comet ++*B
Sire's Dam: SGCH Washe-Zephyr No Way 4*M
Dam: SGCH Mega-Milkers Sugar Shack 8*M
Dam's Sire: Crybaby Farms NF Saki's Toji *B
Dam's Dam: SGCH Mega-Milkers Scimitar Nietzche 7*M
SG Mega Milkers No Bama 9*M
Sire: SG Washoe-Zephyr No Fear +*B
Sire's Sire: Companeros Cascade Comet ++*B
Sire's Dam: SGCH Washe-Zephyr No Way 4*M
Dam: SGCH Mega-Milkers Sugar Shack 8*M
Dam's Sire: Crybaby Farms NF Saki's Toji *B
Dam's Dam: SGCH Mega-Milkers Scimitar Nietzche 7*M
SG Mega Milkers Y-Nota Fermata 8*M
Sire: Tres Amigo Dividend Ramses
Sire's Sire: Windsor-Manor SK Dividend
Sire's Dam: Tres Amigo FR Regalia
Dam: Caprikorn RV Ynota Showtune 7*M
Dam's Sire: Caprikorn Renov Vanderbilt *B
Dam's Dam: Sleighbell-Farm Twil's Tayn 6*M
Mega-Milkers Petticoat Junction
Sire: Mega-Milkers Cockeyed Optimus AI
Sire's Sire: Caprikorn Krug's Roadshow
Sire's Dam:Caprikorn RV Ynota Showtune 7*M
Dam: Mega-Milkers No Drama AI 9*M
Dam's Sire: SG Washoe-Zephyr No Fear +*B
Dam's Dam: SGCH The Mega-Milkers Sugar Shack 8*M
Mega Milkers Isle of Palin
Sire: Mega-Milkers Isle of Arcadia
Sire's Sire: Tres Amigo Dividend Ramses
Sire's Dam: Mega-Milkers Isle of Asia 2*M
Dam: SG Mega-Milkers No Bama AI 9*M
Dam's Sire: SG Washoe-Zephyr No Fear +*B
Dam's Dam: SGCH The Mega-Milkers Sugar Shack 8*M
Mega Milkers Petticoat Junction
Sire: GCH Mega-Milkers Cockeyed Optimus AI
Sire's Sire: Caprikorn Krug's Roadshow
Sire's Dam:Caprikorn RV Ynota Showtune 7*M
Dam: Mega-Milkers No Drama AI 9*M
Dam's Sire: SG Washoe-Zephyr No Fear +*B
Dam's Dam: SGCH The Mega-Milkers Sugar Shack 8*M
 Ranea Bravo *B  
Sire: SGCH Crybaby Farms Pvt Auric +*B
Sire's Sire: SG Crybaby Farms Standardpvtlabel AI +*B
Sire's Dam: SGCH Washoe-Zephyr 24 Karat 5*M
Dam: Ranea Lladro Brisa 3*M
Dam's Sire: SG Des-Ruhigestelle Lladro ++*B
Dam's Dam: SG Washoe-Zephyr Breowan 2*M
Show Wins
* 1 RGCH
* 2014 LA VVE 87
Nubians
GCH Mega Milkers Mariksa AI 2*M
Sire: Desert-Caper Classic Tradition +B
Sire's Sire: Linkville Royal Tradition AI ++*B
Sire's Dam: GCH Desert Caper CC's Crista 4*M
Dam: Manges-Colony Layla 1*M
Dam's Sire: GCH C/F Nikkatan +*B
Dam's Dam: Manges-Colony CHDL Leslie
SGCH Mega Milkers Uptown Girl 4*M
Sire: SGCH Manges-Colony Beau Linus +*B
Sire's Sire: GCH Regehrs Alginon's Beaujolais AI ++*B
Sire's Dam: GCH Manges-Colony Pan Lauren AI 1*M
Dam: GCH Mega-Milkers Mariska AI 2*B
Dam's Sire: Desert-Caper Classic Tradition +*B
Dam's Dam: Manges-Colony Layla 1*M
Mega Milkers L-O-L-A Lola 3*M
Sire: Mega-Milkers Hocus Pocus
Sire's Sire: GCH Goldthwaite C'Estmagnifique
Sire's Dam: Mega-Milkers Pinata Confetti 1*M
Dam: GCH Mega-Milkers Mariska AI 2*M
Dam's Sire: Desert-Caper Classic Tradition +*B
Dam's Dam: Manges-Colony Layla 1*M
Mega Milkers Time Glitz
Sire: Mega-Milkers Timeless Tradition AI *B
Sire's Sire: SGCH Manges-Colony Beau Linus +*B
Sire's Dam: GCH Mega-Milkers Mariska AI 2*M
Dam: Mega-Milkers Pinata Confetti 1*M
Dam's Sire: SGCH Manges-Colony Beau Linus +*B
Dam's Dam: Mega-Milkers Taco's Pinata
Mega-Milkers Timeless Encore/Mega-Milkers Timeless Cabaret
Sire: Mega-Milkers Timeles Tradition AI *B
Sire's Sire: SGCH Manges-Colony Beau Linus +*B
Sire's Dam: GCH Mega-Milkers Mariska AI 2*M
Dam: GCH Mega-Milkers Classic Sonatina AI 1*M
Dam's Sire: Desert-Caper Classic Tradition +*B
Dam's Dam: Mega-Milkers Falkore's Pretzel
Irish Belles Canga Roo
Sire: Mega-Milkers Timeless Tradition AI *B
Sire's Sire: SGCH Manges-Colony Beau Linus +*B
Sire's Dam: SGCH Mega-Milkers Mariska AI *2
Dam: Irish Belles Charmed Paige
Dam's Sire: Goldthwaite C'Estmagnifique
Dam's Dam: SG Irish Belles Lady Taylor
Six M Galaxy August Moon
Sire's Sire: Six M Galaxy Noel's Eclipse
Sire's Dam: Six M Galaxy Obe's Unique
Dam: Six M Galaxy Moonlight
Dam's Sire: Six M Galaxy Ravenwood
Dam's Sire: Six M Galaxy Sunspots
Show Wins
* 3 RGCH
* 2014 LA 85 +VV