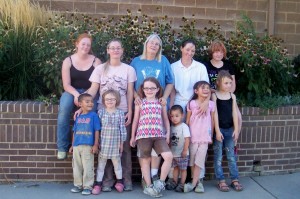 The Mega-Milkers herd is located in the southeast corner of Wyoming, 9 miles from the Colorado border and 15 miles from the Nebraska border. We began raising dairy goats 25 years ago as a 4-H project for sisters Kirstan and Erin. Now that the girls are grown and starting their own families, Karen manages the herd practically on her own. But not for long, because Karen's six grand-daughters, two grand-sons, and two grand-nieces will soon be the third generation of goat lovers in this family!
Mega-Milkers Saanens and Nubians are proudly raised for both show and milk. We are members of American Dairy Goat Association, International Nubian Breeders Association, National Saanen Breeders Association, Colorado Dairy Goat Association, and Wyoming Dairy Goat Association. We participate in Linear Appraisal and Dairy Herd Improvement Registry in order to ensure that our breeding program is continually improving the overall genetics of each breed. We keep a small herd and cull heavily and fast, so be sure to place kid orders early. We also sell finished champions to make room in the show herd for young promising animals. There is no room for brood does in this rapidly improving herd!
Our goats are our family!  We breed for happy, healthy animals that have productivity, longevity, and beauty.  The Mega-Milkers are fed a high quality, locally grown alfalfa hay, locally produced alfalfa pellets, 16% dairy grain, free choice mineral and baking soda, our home grown sunflower seeds, and clean, fresh water.  Our goats are large, strong animals that thrive in the ever changing Wyoming weather.  We breed for show and maintain a high level of quality throughout the herd.  Most of all we love our goats and strive for excellence in every aspect!
Thank you for visiting our website