Nubians
Mega-Milkers Moonover Downtown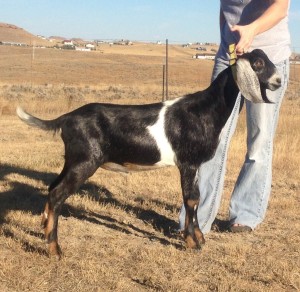 Sire: Six M Galaxy August Moon
Dam: SGCH Mega-Milkers Uptown Girl
Downtown is a very flashy young buck.  He is long, tall, and super correct.  He combines the dairy strength and productivity of his sire with the general appearance and body capacity of his dam. G6S Normal
Mega-Milkers Classic Good Looks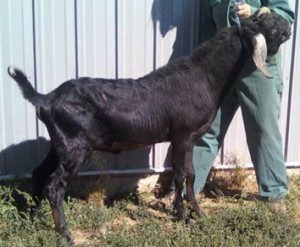 Good Look (call name Isaac) is everything we would want from a Classic son, he is long and level.  His daughters have all shown a great deal of general appearance with lots of height at the withers and length throughout. G6S Normal
Sire: Desert-Caper Classic Tradition ++*B
Sire's Sire: Linkville Royal Tradition ++*B
Sire's Dam:  GCH Desert-Caper CC's Crista 4*M
Dam: Mega-Milkers L-O-L-A Lola
Dam's Sire: Mega-Milkers Hocus Pocus
Dam's Dam:  GCH Mega-Milkers Mariska AI 2*M
Show Wins
*2014 LA 82 +++
Saanens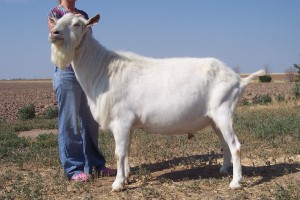 GCH Mega-Milkers Cockeyed Optimus AI
Optimus is a strong buck with heavy milking lines on both sides.  His offspring also exhibit the structural correctness expected in a good milking animal.  Optimus is long and level and his daughters are extremely productive animals. He has excellent feet and legs that he passes on to his offspring
Sire: Caprikorn Krug's Roadshow
Sire's Sire:GCH Caprikorn Judge's Krugerrand +* B
Sire's Dam: Two-Ceders Mandella
Dam: Caprikorn RV Ynota Showtune 7*M
Dam's Sire: Caprikorn Renov Vanderbilt +*B
Dam's Dam: Sleighbell-Farm Twil's Tayn 6*M
Show Wins
* 4 GCH, 1 RGCH
* 2014 LA 91 EEE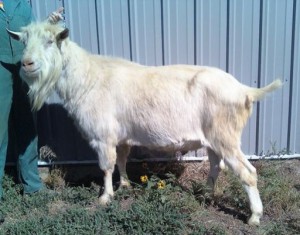 Mega-Milkers PVT Design Label AI *B
Design is a correct buck from strong show lines.  He has a beautiful head and profile, showing strength in the front end and sharp in the withers.  Design has daughters with a great deal of feminine character as well as very well supported mammary.  Design consistently throws high quality kids that are superior to their dams in many ways.

Sire: Crybaby Farms StandardPVTLabel *B
Sire's Sire: SGCH Companeros Hallelujah Standard AI ++*B
Sire's Dam: SGCH Companeros Atlas Sattui 5*M
Dam: SGCH The Mega-Milkers Sugar Shack 8*M
Dam's Sire: Crybaby Farms N.F. Saki's Toji *B
Dam's Dam: SGCH Mega-Milkers Scimitar Nietzche 7*M
Show Wins
* 2014 LA VEE 87
Mega-Milkers Isle of Arcadia – SOLD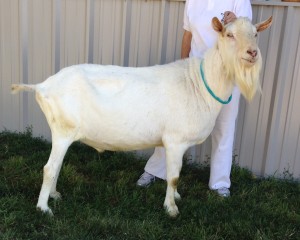 Arcadia is strong buck who was sold as a yearling and then returned to us as a five year old.  We are pleased to have him as his daughters are extremely level with flat wide rumps.  Arcadia also exhibits a deep body that he passes onto his kids.  His dam had a nearly perfect mammary and his daughters exhibit very correct udders as well.
Sire: Tres Amigos Dividend Ramses
Sire's Sire: Winsor-Manor SK Dividend
Sire's Dam: Tres Amigos FR Regalia
Dam: GCH Mega-Milkers Isle of Asia
Dam's Sire: Mega-Milkers Isle of Arabas
Dam's Dam: Mega-Milkers Siagon
Other Bucks AI:
Nubian – Haven-Hills Beau Scamper
Sire: Regehrs Alginons Beaujolais
Dam: Haven-Hills Shakita