Nubians
GCH Mega-Milkers Liam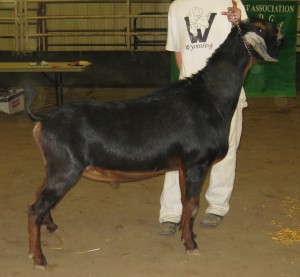 We are so pleased to have Liam and excited to see what he can do.  Special thanks to Jon of Mosaic Dairy Goats for sharing another amazing Linus son.  He won Grand Champion in three out of four rings during a quad show in 2013.  Liam is long, tall and extremely angular.  He has a long level topline with lots of width in the rear. G6S Normal
Sire: SGCH Manges-Colony Beau Linus +*B
Sire's Sire: Regehrs Alginon's Beaujolais
Sire's Dam: Manges-Colony Pan Lauren
Dam: GCH Mega-Milkers Mariska AI 2*M
Dam's Sire: Desert-Caper Classic Tradition +*B
Dam's Dam: Manges-Colony Layla
Show Wins
* 3 GCH, 1 RGCH
* 2014 LA 88 VVE
Six M Galaxy August Moon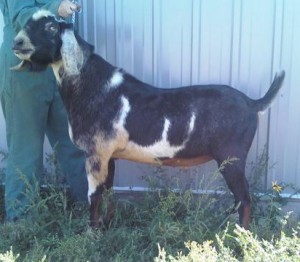 Augie comes from a long line of productive animals. We are hoping that he will increase the production of our Nubian herd. G6S Normal
Sire's Sire: Six M Galaxy Noel's Eclipse
Sire's Dam: Six M Galaxy Obe's Unique
Dam: Six M Galaxy Moonlight
Dam's Sire: Six M Galaxy Ravenwood
Dam's Sire: Six M Galaxy Sunspots
Show Wins
* 3 RGCH
* 2014 LA 85 +VV
Mega-Milkers Classic Good Look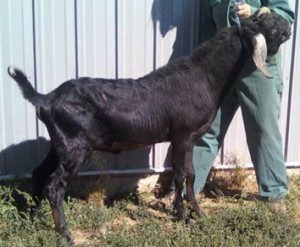 Good Look (call name Isaac) is everything we would want from a Classic son, he is super long and level.  He has nice angulation and lots of strength in the front end. G6S Normal
Sire: Desert-Caper Classic Tradition ++*B
Sire's Sire: Linkville Royal Tradition ++*B
Sire's Dam:  GCH Desert-Caper CC's Crista 4*M
Dam: Mega-Milkers L-O-L-A Lola
Dam's Sire: Mega-Milkers Hocus Pocus
Dam's Dam:  GCH Mega-Milkers Mariska AI 2*M
Show Wins
*2014 LA 82 +++
Saanens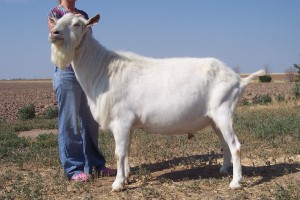 GCH Mega-Milkers Cockeyed Optimus AI
Optimus is a strong buck with heavy milking lines on both sides.  His offspring also exhibit the structural correctness expected in a good milking animal. Optimus completed his Championship in 2013 at his first show. He went Grand Champion in three out of four rings in a quad buck show.  Optimus long and level  and his daughters are exhibiting the willingness to milk we were hoping to see. He has excellent feet and legs that he passes on to his offspring
Sire: Caprikorn Krug's Roadshow
Sire's Sire:GCH Caprikorn Judge's Krugerrand +* B
Sire's Dam: Two-Ceders Mandella
Dam: Caprikorn RV Ynota Showtune 7*M
Dam's Sire: Caprikorn Renov Vanderbilt +*B
Dam's Dam: Sleighbell-Farm Twil's Tayn 6*M
Show Wins
* 3 GCH, 1 RGCH
* 2014 LA 91 EEE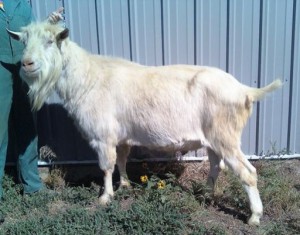 Mega-Milkers PVT Design Label AI *B
Design is a typy, correct young buck from strong show lines.  Design has a long level top line and has produced some striking kids with well attached udders.

Sire: Crybaby Farms StandardPVTLabel *B
Sire's Sire: SGCH Companeros Hallelujah Standard AI ++*B
Sire's Dam: SGCH Companeros Atlas Sattui 5*M
Dam: SGCH The Mega-Milkers Sugar Shack 8*M
Dam's Sire: Crybaby Farms N.F. Saki's Toji *B
Dam's Dam: SGCH Mega-Milkers Scimitar Nietzche 7*M
Show Wins
* 2014 LA VEE 87
 Ranea Bravo *B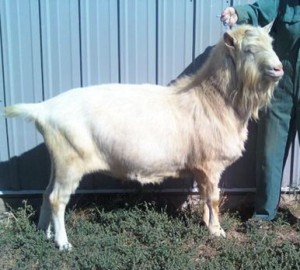 Bravo is a tall, dairy buck with the structural correctness necessary to produce excellent kids.  Bravo has had beautiful daughters and continually improves on the next generation. He is also a gentle buck with a easy going disposition.  
Sire: SGCH Crybaby Farms Pvt Auric +*B
Sire's Sire: SG Crybaby Farms Standardpvtlabel AI +*B
Sire's Dam: SGCH Washoe-Zephyr 24 Karat 5*M
Dam: Ranea Lladro Brisa 3*M
Dam's Sire: SG Des-Ruhigestelle Lladro ++*B
Dam's Dam: SG Washoe-Zephyr Breowan 2*M
Show Wins
* 1 RGCH
* 2014 LA VVE 87
Other Bucks:
Lake Country Opus Atrayu – Saanan
Atrayu was a strong buck who put on well attached udders. We are planning to use him this year by AI. Atrayu daughters were also tall and productive.
Haven-Hills Beau Scamper – Nubian
Scamper is the son of Regehrs Alginon's Beaujolais and half brother to Beau Linus (Liam's Sire). We love this style of Nubian and look forward to using Scamper by AI this year. Scamper comes from an older line of goats that had a great deal of dairy character and productivity. G6S Normal
Mega-Milkers Moon Quasar – Nubian
Quasar is a young buck out of Augie and Latisse. This buck will be on lease from his owner and we are hoping he brings in the productivity from his sire and the powerful beauty of his dam. G6S Normal