Roll over the For Sale page at the top of your screen or click on Planned Breedings
Reserve you kid for 2014 today!
Condeleesa/Cadence – 1 buck born 03-04-14
Condi had a gorgeous, large buck kid.  He was born around 12 pounds and hit the ground running!  Condi has a gorgeous, capacious udder and we think this buck will really be something special.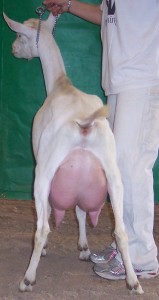 Price: $400
Coda/Bravo – 1 buckling born 03-23-14
Coda had a wonderfully correct buck kid.  He is large, dairy, and has a nice Saanen head.  He is out of our very milky lines so we expect big things from him.
Price: $400
Glitzy/Augie –  1 buckling born 04-02-14
Glitzy had a very large flashy buck kid.  He is one handsome dude and exhibits the dairy character of his dam and sire along with great size and scale.  This spotted buckling will make a great addition to any herd.  Call immediately for reservations.
Price:  $300 – 350
Fern/Isaac – 2 buckings and 1 doeling born 04-03-14
Fern had three amazing kids!  Both buck kids are very large and have their fathers long, level topline.  Fern freshened with a large, well attached second year udder and we are very pleased with her three kids.
Comedy/Bravo – 2 doelings born 03-06-14  -  1 Retained/1 SOLD
Comedy gave us two beautiful girls out of our flashy buck Bravo.  Bravo has show to produce incredibly showy, feminine daughters and Comedy has a fabulous udder.  We think these little darlings will be absolute show stoppers!  Contact Karen to reserve one today.
Price: $250-$300
Tears/Isaac – 2 doelings born 03-13-2014  -  SOLD
Tears had two lovely doe kids.  Both are spotted just like her and both exhibit extreme dairy character and breed character.  These are our first Isaac kids and they appear to have his same long, level back and wide hips.   Both does will be for sale so call ASAP to reserve one today.
Price: $150 – $200
Roo/Augie – 2 doelings born 03-15-2014  -  SOLD
Roo graced us with two flashy black and white kids.  We love our Augie kids from last year so we decided to repeat this breeding and couldn't be more pleased.  Both doe kids have wide escutcheons and wonderful dairy character.  Roo has an extremely correct mammary and see similar traits in her daughters.
Price: $250 – $300
Lola/Augie – 2 bucklings born 02-26-2014   –  SOLD
Both buck kids are for sale.  One is black with tan and white markings and the other is black with a large white belly band along with tan markings.  These are extremely large and correct buck kids.  Born at 8 and 10 pounds they are already growthy boys.   Please call or email Karen as soon as possible to reserve these flashy bucks!
Price: $300-400
Lunesta/Isaac – 2 doelings born 03-28-14 – Retained
Lunesta had a lovely doeling this year.  She is marked just like her sire with the grace of her dam.
Applause/Cadence – 1 doeling born 03-24-14 – Retained
Applause had a lovely doeling that we may be keeping this year.  She has lots of dairy character and we are excited to see a daughter out of Cadence.