Mega-Milkers Cadence By Design – buckling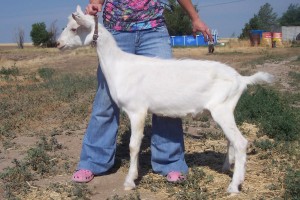 Cadence is a gorgeous little buck kid.  We normally wether all buck kids not pre-ordered but Cadence is such an amazing kid we did not want to miss the opportunity to have this beautiful buck add his genetics to the Saanen breed.
Sire: Mega-Milkers PVT Design Label
Sire's Sire:  Crybaby Farms StandardPVTLabel
Sire's Dam:  SGCH The Mega-Milkers Sugar Shack
Dam: Mega-Milkers Ynota Fermata
Dam's Sire:  Tres Amigos Dividend Ramses
Dam's Dam:  Caprikorn RV Ynota Showtune
Mega-Milkers Isle of Palin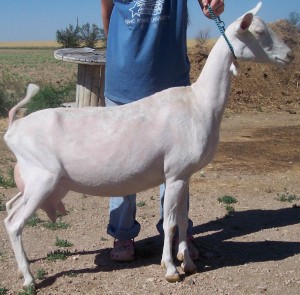 Palin was born in 2011, she is a two year old second freshener.  Palin has the most amazing udder, very correct, high, with a smooth fore udder.  Palin is a heavy milker and has a sweet personality.  Palin has shown in four shows in 2013 and has done well, judges comment on her lovely udder for attachment and capacity.  Palin is for sale for $300.
* 2012 LA 84 +V+V


* 2012 Nationals 19th yearling milker

Dam: SG Mega-Milkers No Bama 9*M   Dam's Sire: SG Washoe-Zephyr No Fear +*B

                                                                  Dam's Dam: SGGH Mega-Milkers Sugar Shack 8*M

Sire: Mega-Milkers Isle of Arcadia         Sire's Sire: Tres Amigo Dividend Ramses

                                                                      Sire's Dam: GCH Mega-Milkers Isle of Asia 2*M

Mega-Milkers Ynota Ice Follies  -  SOLD

Follie is a beautiful doe from strong milking lines.  She is a first freshening yearling. Follie is $300.

Dam: Caprikorn RV Ynota Showtune 7*M

Sire: Tres Amigo Ice Machine

 

Roll over the For Sale page at the top of your screen and click on Planned Breedings