GCH Mega-Milkers Mariska AI 2*M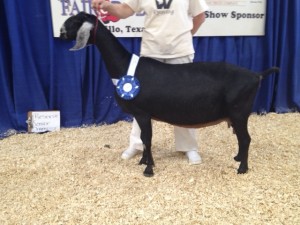 Mariska is what a Nubian should be. She is extremely long bodied, angular, level and deep without being coarse. She has a high, wide, well attached rear udder with extending foreudder.
DHIR Milk Record
3 year old 2330
4 year old 2450
5 year old 1920
6 year old 1540
Show Wins
* 2007 Nationals 16th 2 yr old
* 2012 Nationals 14th aged doe
* 2010 LA 91 VEEE
* 7 RGCH, 4 GCH, 8 BOB, 6 BU, 3 BIS
* 2012 Nubian Specialty Reserve Champion Nubian
SGCH Mega-Milkers Uptown Girl 4*M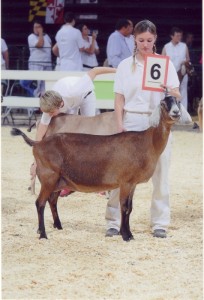 Uptown is an amazing doe, picking up all the wonderful qualities of her dam plus a more capacious udder and better breed character.  Uptown finished her Championship in 2011 and rounded out her 2012 show season with a Best Doe in Show at the Tri-State Fair in Amarillo TX.  She has continued to win show after show this year.  Uptown also produces lovely kids and we retained both of her doe kids to freshen in 2013. G6S Normal
DHIR Milk Record
1 yr old 1000
2 yr old 2090
3 yr old 1570
Show Wins
* 2012 LA 91 EEEE
* 2012 Nationals 6th 4 yr old (33 in class)
* 1 RGCH, 5 GCH, 3 BOB, 2 BU, 1 BIS
Mega-Milkers HP L-O-l-A Lola 3*M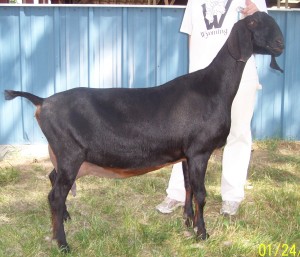 Lola is a lovely doe with excellent breed character, smoothness of blending and great size already.  Lola has a super long deep body and a smooth, long fore udder.  She is a gentle doe with all the strength and grace of her dam Mariska. G6S Normal
DHIR Milk Record
1 yr old 1070
2 yr old 1330
Show Wins
* 2012 LA 90 EEEV
* 2012 Nationals 21st 3 yr old (40 in class)
* 1 RGCH, 2 GCH, 1 BIS
Glitzy is a wonderful improvement on her dam while keeping the great qualities of dairy character and correctness throughout.  Glitzy was late to freshen this year with a single kid in June.  It was worth the wait!  Glitzy has a well attatched mammary with smooth fore and wide rear.  Her body is long, deep, and level.  Glitzy may have been slow to mature but she is an exceptional beauty now. G6S Normal
DHIR Milk Record
1 yr old 1200
2 yr old 1270
Show Wins
* 2012 LA 87 EVVV
* 2012 Nationals 10th 3 yr old (40 in class)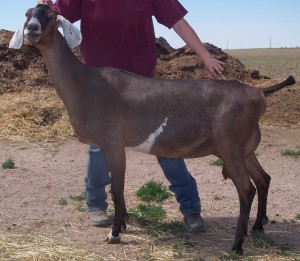 Mega-Milkers Caprice Latisse
Latisse is a tall, long, very correct doe.  Latisse catches the eye of everyone she meets due to her size.  She is exactly what we expect to see from a Classic Tradition linebreeding.  Latisse also has a correct udder that is high, wide, with a smooth fore.  Latisse is a rising star! G6S Normal
Show Wins
* 2012 LA 87 VVVV
* 2012 Nationals 9th 2 yr old (57 in class)
* 2 RGCH
Roo is on lease from the Irish Belles Nubian herd.  We are so please to have another Timeless daughter in our herd.  Roo is long and dairy and we know she will have a lovely mammary characteristic of the Irish Belles.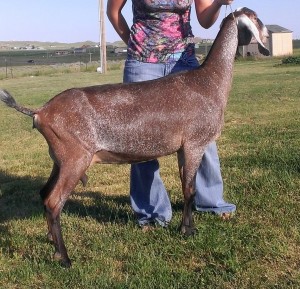 Mega-Milkers For The Love Fern
Fern is another beautiful daughter of Uptown Girl.  She is a copy of her dam and we are excited to see her as a second freshening two year old.
Mega-Milkers Mariska's Lunesta
Lunesta is maturing nicely into long, level, tall two year old.  She has her dams amazing general appearance and power coupled with style and beauty.  Lunesta did not show in 2013 due to an injury but she is all healed up and ready to kid in March 2014.
Tears will be a first freshening two year old.  She is so pretty and has the feminine beauty that will make her a show stopper.