SGCH Mega-Milkers Mariska AI 2*M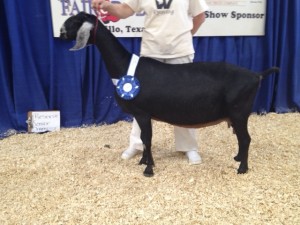 Mariska extremely long bodied, angular, level and deep without being coarse. She has a high, wide, well attached rear udder with extending foreudder.
G6S Normal
DHIR Milk Record
3 year old 2330
4 year old 2450
5 year old 1920
6 year old 1540
Show Wins
* 2007 Nationals 16th 2 yr old
* 2012 Nationals 14th aged doe
* 2010 LA 91 VEEE
* 7 RGCH, 4 GCH, 8 BOB, 6 BU, 3 BIS
* 2012 Nubian Specialty Reserve Champion Nubian
SGCH Mega-Milkers Uptown Girl 4*M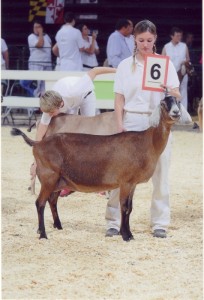 Uptown is an amazing doe, picking up all the wonderful qualities of her dam plus a capacious udder and beautiful breed character.  Uptown finished her Championship in 2011 and continues to dominate the show ring.  She has continued to be very productive even as she ages and produces lovely kids.
G6S Normal
DHIR Milk Record
1 yr old 1000
2 yr old 2090
3 yr old 1570
Show Wins
* 2012 LA 91 EEEE
* 2012 Nationals 6th 4 yr old (33 in class)
* 1 RGCH, 5 GCH, 7 BOB, 4 BU, 1 BIS, 1 BUIS
SG Mega-Milkers HP L-O-l-A Lola 3*M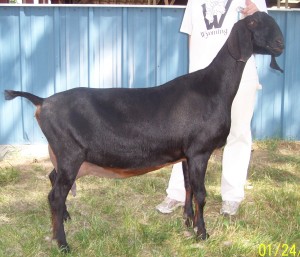 Lola is a doe with excellent breed character, smoothness of blending and superb body capacity .  Lola exhibits dairy strength throughout as well as an extremely well attached mammary.  She has a smooth, long fore udder.  G6S Normal
DHIR Milk Record
1 yr old 1070
2 yr old 1330
Show Wins
* 2012 LA 90 EEEV
* 2014 LA 90 EVEV
* 2012 Nationals 21st 3 yr old (40 in class)
* 4 RGCH, 2 GCH, 1 BIS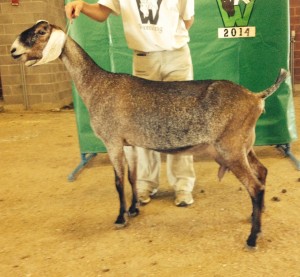 SG Mega-Milkers For The Love Fern 5*M
Fern has lovely general appearance and great dairy strength. She has long level hips and a well attached udder.  Fern is elegant and feminine in the show ring.   G6S Normal
Show Wins
*2014 LA 86 VVVV
*2 GCH
Mega-Milkers Golden Ticket 2*M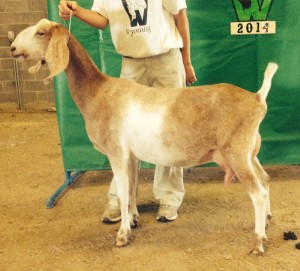 Ticket is a unique colored doe with a fabulous mammary. She has a wide rear udder arch and a long smooth fore.  Her mammary has nearly perfect shape and texture.  Ticket also has good body capacity and a long lean neck.
G6S Normal
Show Wins
* 2 RGCH
* 1 BU
* 2014 LA 85 +VVV
Mega-Milkers Classic Showdown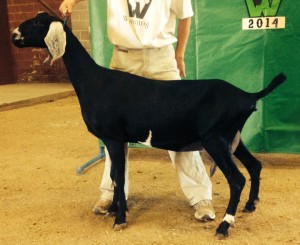 Showdown is another long and tall doe.  She has extremely correct feet and legs with a very pleasing mammary.  Her udder is wide in the rear and full in the fore.  Showdown is also very productive and has beautiful Nubian characteristics.  G6S Normal
Show Wins
* 1 RGCH
* 2014 LA 81 VVEA
Mega-Milkers Look an Ice Cube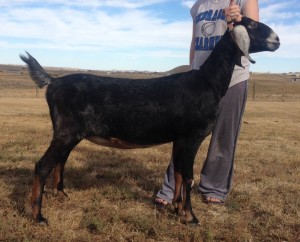 Cubes is a power-house Nubian.  She is deep in the girth and wide in the chest floor.  Cubes has wide, flat hips.
Show Wins
* 1 GCH (dry)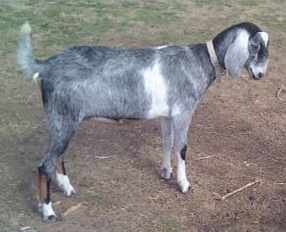 Shine is a flashy doe with a nicely shaped udder.  She is productive and has a long lean neck.  Shine also is super angular with open, flat ribs.  G6S Normal
Shadow is a nice representation of her dam.  She is deep long and wide.  Shadow has a lovely Nubian head and strong feet and legs.
Mega-Milkers Tiny Town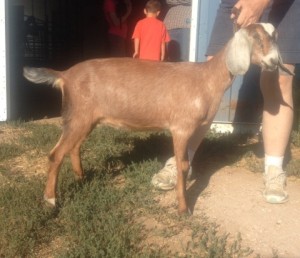 Dam: SGGH Mega-Milkers Uptown Girl
Sire: Six-M-Galaxy August Moon
Tiny Town is smooth and wide.  She has a sharp front end with a level top line.
Nubian Update:  As of 2014 all of our Nubians are G6S Normal by testing or pedigree.  We are dedicated to improving the Nubian breed and believe that knowledge is power, therefore knowing which animals are G6S is important to us.  Since our herd is totally normal we will continue a strict testing regiment for any outside animals to make sure it stays that way.  Please feel free to call or email with questions or concerns regarding G6S, we will gladly answer all questions to the best of our knowledge.