SGCH Mega-Milkers For The Love Fern4*M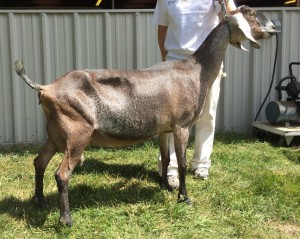 Fern has lovely general appearance and great dairy strength. She has long level hips and a well attached udder.  Fern is elegant and feminine in the show ring.   G6S Normal
Show Wins
*2016 LA 89 VVVV
*3 GCH
*3 BOB
Mega-Milkers Mariska Lunesta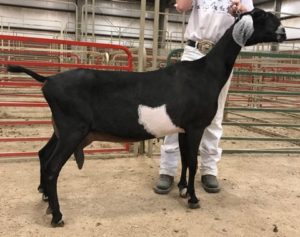 Lunesta came back to us as a second freshening 5 year old and we are so pleased to have her back.  She is super long and powerful with a lovely mammary. G6S Normal
Show Wins
* 2 GCH
* 2 BOB
* 1 RGCH
* 2018 LA VEVV 88
GCH Mega-Milkers Classic Showdown 4*M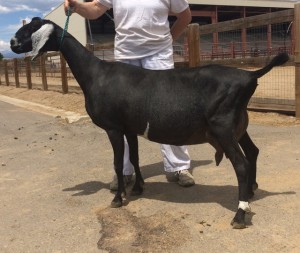 Showdown is another long and tall doe.  She has extremely correct feet and legs with a very pleasing mammary.  Her udder is wide in the rear and full in the fore.  Showdown is also very productive and has beautiful Nubian characteristics.  G6S Normal
Show Wins
* 7 GCH
* 1 RGCH
* 2016 LA 88 EEEV
* 2018 LA 89 EEE+
GCH Mega-Milkers Look an Ice Cube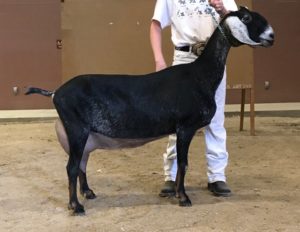 Cubes is a power-house Nubian.  She is deep in the girth and wide in the chest floor.  Cubes has wide, flat hips and a productive udder.
Show Wins
* 4 GCH
* 2 BOB
* 5 RGCH
*2016 LA 86 VVVV
*2018 LA 90 VEEE
Pie was returned to us in 2017 and we couldn't be more pleased.  Pie is extremely productive and has a nicely shaped mammary.  We are excited to have Pie back in the herd and look forward to showing her this season. G6S Normal
Show Wins
* 4 GCH  1 RGCH  1 BUIS
*2018 LA VEVE 88
Mega-Milkers Calendar Girl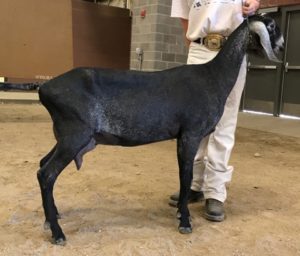 Calendar Girl is a super elegant doe.  She is long, level, and wide.  Calendar milks extremely well and has a well attached udder.  We are excited to see this Uptown daughter mature. G6S Normal
Mega-Milkers DT Hometown Gal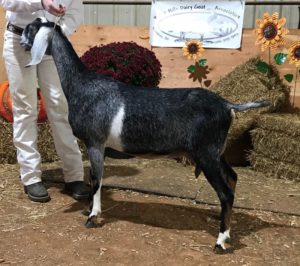 Hometown is a very elegant doe.  She has excellent dairy strength with smoothness throughout.  Hometown has a very well attached udder with a full, smooth fore udder. G6S Normal
Mega-Milkers Spice of Life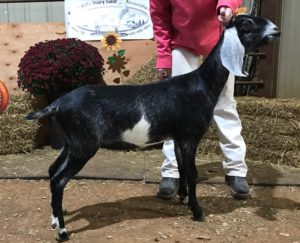 Spice is a beautiful doe with a long neck and strong feet and legs.  She is extremely correct in her mammary system.  Like all Downtown daughters she is very productive.  G6S Normal
Nubian Update:  As of 2014 all of our Nubians are G6S Normal by testing or pedigree.  We are dedicated to improving the Nubian breed and believe that knowledge is power, therefore knowing which animals are G6S is important to us.  Since our herd is completely normal we will continue a strict testing regiment for any outside animals to make sure it stays that way.  Please feel free to call or email with questions or concerns regarding G6S, we will gladly answer all questions to the best of our knowledge.