GCH Mega-Milkers Mariska AI 2*M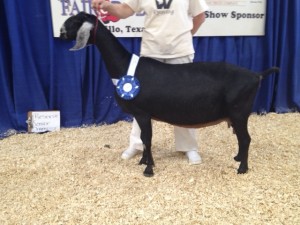 Mariska is what a Nubian should be. She is extremely long bodied, angular, level and deep without being coarse. She has a high, wide, well attached rear udder with extending foreudder.
G6S Normal
DHIR Milk Record
3 year old 2330
4 year old 2450
5 year old 1920
6 year old 1540
Show Wins
* 2007 Nationals 16th 2 yr old
* 2012 Nationals 14th aged doe
* 2010 LA 91 VEEE
* 7 RGCH, 4 GCH, 8 BOB, 6 BU, 3 BIS
* 2012 Nubian Specialty Reserve Champion Nubian
SGCH Mega-Milkers Uptown Girl 4*M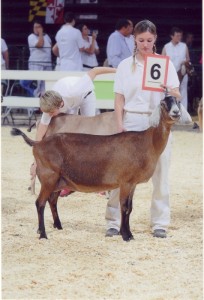 Uptown is an amazing doe, picking up all the wonderful qualities of her dam plus a more capacious udder and better breed character.  Uptown finished her Championship in 2011 and continues to dominate the show ring.  She has continued to win show after show this year.  Uptown also produces lovely kids.
G6S Normal
DHIR Milk Record
1 yr old 1000
2 yr old 2090
3 yr old 1570
Show Wins
* 2012 LA 91 EEEE
* 2012 Nationals 6th 4 yr old (33 in class)
* 1 RGCH, 5 GCH, 3 BOB, 2 BU, 1 BIS
Mega-Milkers HP L-O-l-A Lola 3*M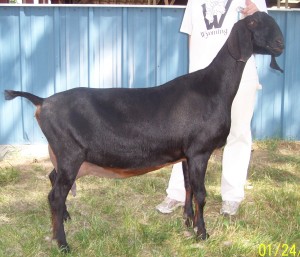 Lola is a lovely doe with excellent breed character, smoothness of blending and great size already.  Lola has a super long deep body and a smooth, long fore udder.  She is a gentle doe with all the strength and grace of her dam Mariska. G6S Normal
DHIR Milk Record
1 yr old 1070
2 yr old 1330
Show Wins
* 2012 LA 90 EEEV
* 2014 LA 90 EVEV
* 2012 Nationals 21st 3 yr old (40 in class)
* 1 RGCH, 2 GCH, 1 BIS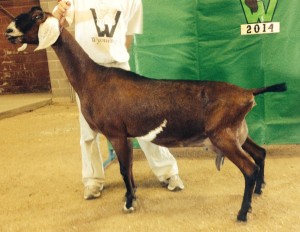 Mega-Milkers Caprice Latisse
Latisse is a tall, long, very correct doe.  Latisse catches the eye of everyone she meets due to her size.  She is exactly what we expect to see from a Classic Tradition linebreeding.  Latisse also has a correct udder that is high, wide, with a smooth fore. G6S Normal
Show Wins
* 2012 LA 87 VVVV
* 2014 LA 88 VEVV
* 2012 Nationals 9th 2 yr old (57 in class)
* 2 RGCH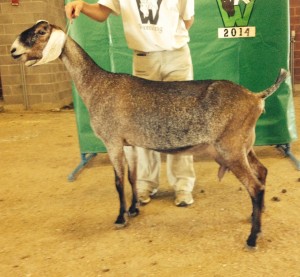 Mega-Milkers For The Love Fern
Fern has lovely general appearance and great dairy character. She has long level hips and a well attached udder. Fern is productive and has a gentle disposition. G6S Normal
Show Wins
*2014 LA 86 VVVV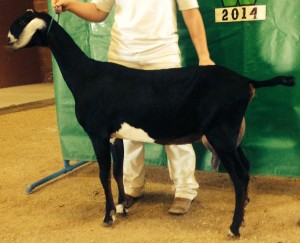 Mega-Milkers Mariska's Lunesta
Lunesta is maturing nicely into long, level, tall two year old.  She has her dams amazing general appearance and power coupled with style and beauty.  Lunesta has a well attached udder with a willingness to milk. G6S Normal
Show Wins
* 2014 LA 86 VEV+
Mega-Milkers Golden Ticket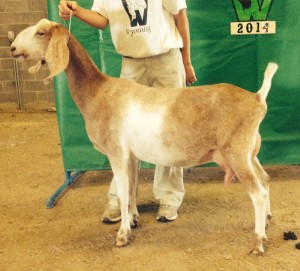 Ticket is a lovely doe with a well attached udder. She has a wide rear udder arch and a long smooth fore. Ticket also has great body capacity and a long lean neck.
G6S Normal
Show Wins
* 1 RGCH
* 1 Best Udder
* 2014 LA 85 +VVV
Mega-Milkers Classic Showdown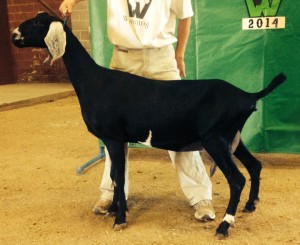 Showdown is everything we could want from a Classic daughter.  She is super long, level, and powerful but also has a great deal of dairy character and a lovely shaped mammary. Showdown is tall and has a strong front end and great feet and legs. G6S Normal
Show Wins
* 2014 LA 81 VVEA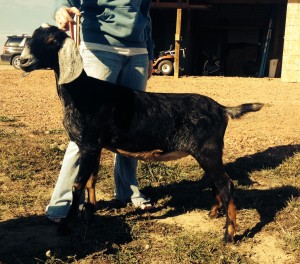 Sire: Mega-Milkers Classic Good Looks
Dame: Mega-Milkers Mariksa Lunesta
Ice Cube has all of the good characteristics from both her dam and sire.  She is large, long, and wide as well as dairy with flat wide hips.  Cubes has a level topline and strong feet and legs.
Show Wins
* 1 GCH (dry)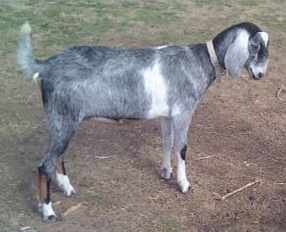 Sire: Six-M-Galaxy August Moon
Dam: Mega-Milkers Mariska Lunesta
Shine is a flashy kid that we could not resist keeping!  We don't usually retain kids out of first fresheners but Shine came out and we knew she had to stay in our herd.  Shine looks a lot like her sire, Augie, so we see great dairy character and breed characteristics. G6S Normal
Nubian Update:  As of 2014 all of our Nubians are G6S Normal by testing or pedigree.  We are dedicated to improving the Nubian breed and believe that knowledge is power, therefore knowing which animals are G6S is important to us.  Since our herd is totally normal we will continue a strict testing regiment for any outside animals to make sure it stays that way.  Please feel free to call or email with questions or concerns regarding G6S, we will gladly answer all questions to the best of our knowledge.