Shack has a beautiful udder, high and wide with an extended fore. She has sharp shoulders and a flat wide rump. Shack did not freshen in 2012 and milked through. She will be bred to kid in 2013.
DHIR Milk Records
3 year old 3140
5 year old 2350


7 year old 3280 Extended Lactation
Show Wins
* 3 RGCH, 9 GCH, 10 BOB, 7 BU, 1 BIS
* Dam & Daughter 2006 District 7 Specialty
* 2008 LA 91 EEEE
* 2010 Fuzzy-Best In Show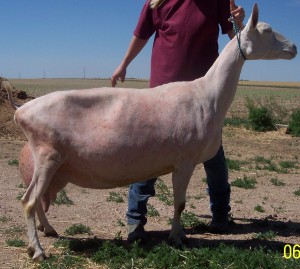 SGCH Mega-Milkers Pure Arrogance 9*M
Arrogance is long, level, tall, and dairy exhibiting the correctness we like to see along with a very productive mammary.
DHIR Milk Records
1 year old 2140
2 year old 2940
3 year old 3350
Show Wins
* 2007 Nationals 7th junior kid
* 2012 Nationals 9th 5 year old
* 2012 LA 88 EEEV
* 3 RGCH, 5 GCH, 4 BOB, 2 BU, 1 BIS
Mega-Milkers No Drama 9*M
Drama is a long, deep doe, smoothly blended throughout with a very correctly attached udder.  Drama has shown a great deal of growth and maturity in 2012 and we expect big things from her in 2013.  She only needs one more leg to complete her Championship!
DHIR Milk Records
1 year old 1860


2 year old 1970
Show Wins
* 2012 LA 89 VEEE
* 1 RGCH, 2 GCH
SG Mega-Milkers No Bama 9*M
Bama is a typy version of her sister, with a slightly wider rear udder, but not quite the length or depth of body.  Bama has a beautiful heart shaped udder that has placed her at the top of many tough classes.  She gave us a lovely doe kid last year and we are excited to see what she can produce this year.
 DHIR Milk Records
1 year old 1680
2 year old 2100
 Show Wins
* 2012 LA 88 EEEV

Mega-Milkers Y-Nota Fermata 8*M
Fermata is an extremely dairy and angular doe with a well attached and very productive mammary.  Fermata has been a big star this year.  As she has matured she continued to place better and better in the show ring.  In her last show this year she won Grand Champion against tough competition.  Also her milking for this year has been super.
DHIR Milk Records
1 year old 2070


2 year old 1600
Show Wins
* 2012 LA 89 EEEV
* 1 RGCH, 2 GCH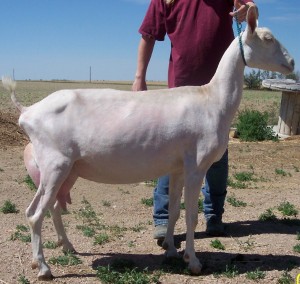 Mega-Milkers Petticoat Junction
Petticoat is a refined, dairy doe showing much length and angularity.  Petticoat has an amazing capacious mammary!  We are so please with our first Optimus udder. She has also performed well in the show ring having several first places.  Petticoat brings together the capacious udder from her sire and the deep, long body of her dame.
Show Wins
* 2012 LA 84 +V+V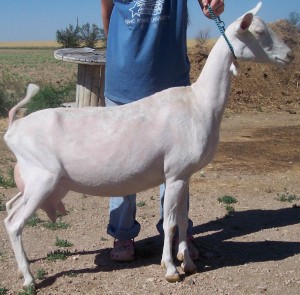 Mega Milkers Isle of Palin
Palin is an extremely wide doe, she has a well attached udder.  Palin is stylish and shows great promise. She has shown well and will continue to do so as she matures and grows. Palin combines beauty and strength in a way that makes her a sure show stopper.
Show Wins
* 2012 LA 84 +V+V
* 2012 Nationals 19th yearling milker
 Drama and Petticoat
 Bama and Palin