Fermata is extremely dairy and angular with a very productive mammary.  She exhibits a long level back and wide flat hips.
DHIR Milk Records
1 year old 2070


2 year old 1600
Show Wins
* 2012 LA 89 EEEV
* 2014 LA 89 EEEV
* 4 RGCH, 2 GCH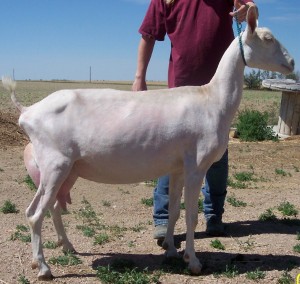 Mega-Milkers Petticoat Junction
Petticoat is a refined, dairy doe showing length and angularity.  Petticoat brings together the capacious udder from her sire and the deep, long body of her dam.  Petticoat is our most productive doe.
Show Wins
* 2012 LA 84 +V+V
* 2014 LA 82 +EVA
Mega-Milkers Design's Comedy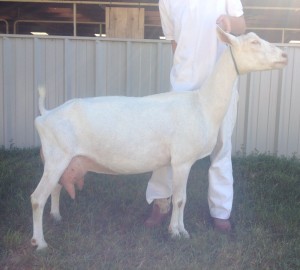 Comedy has an extremely correct mammary.  She has a lovely long, smooth fore udder and a very high wide rear.  Comedy has great body capacity.
Show Wins
* 1 GCH
* 3 RGCH
* 2014 LA 85 ++VV
  Mega-Milkers Bravo Condeleesa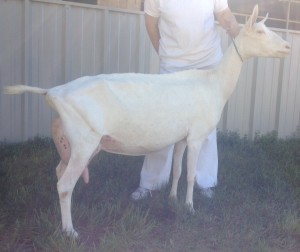 Condeleesa has a large capacious udder that has a very pleasing shape.  Condi has a long body with wide, level hips.
Show Wins
* 2014 LA 86 VE+V
* 1 GCH* 1 RGCH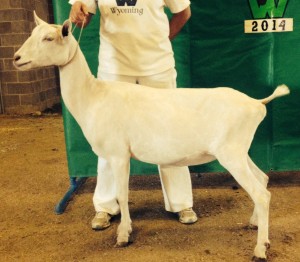 Sire: GCH Mega-Milkers Cockeyed Optimus
Dam: SGCH The Mega-Milkers Sugar Shack
Jenny is a tall, long, and extremely correct doe.  She has a securely attached udder with a high rear, strong lateral, and smooth fore.  Jenny take the strength and beauty of her dam with an increase in milk production and dairy characture.
Show Wins
* 1 GCH
Sire: Mega-Milkers Cadence
Dam: Mega-Milkers Bravo Applause
Ovation is a super long and level doe with a lovely mammary.  She has a smooth fore with a high wide rear udder.
Show Wins
* 1 GCH