Fermata is extremely dairy and angular with a very productive mammary.  She exhibits a long level back and wide flat hips.  Fermata continues to be a productive and sound milking animal even as she ages.
DHIR Milk Records
1 year old 2070


2 year old 1600
Show Wins
* 2012 LA 89 EEEV
* 2014 LA 89 EEEV
* 4 RGCH, 2 GCH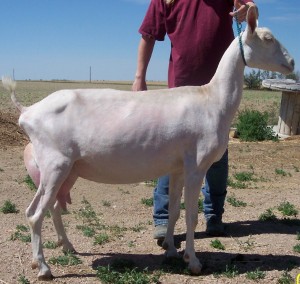 Mega-Milkers Petticoat Junction
Petticoat is a refined, dairy doe showing length and angularity.  She is the work horse of our herd, producing extremely well and continuing that production late into the year.
Show Wins
* 2012 LA 84 +V+V
* 2014 LA 82 +EVA
Mega-Milkers Design's Comedy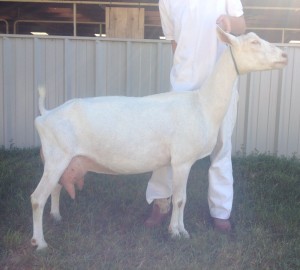 Comedy is extremely beautiful and also productive.  She has a feminine style coupled with dairy strength and body capacity.  She has a long, smooth fore udder and a very high wide rear.  She also stands on strong and correct feet and legs.
Show Wins
* 1 GCH
* 4 RGCH
* 2014 LA 85 ++VV
  Mega-Milkers Bravo Condeleesa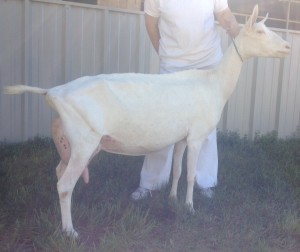 Condeleesa has a large capacious udder that has a very pleasing shape and extreme height in the rear udder.  Condi is dairy and open thoughout.  She has a level topline.
Show Wins
* 2014 LA 86 VE+V
* 1 GCH* 1 RGCH
Mega-Milkers Cotton Jenny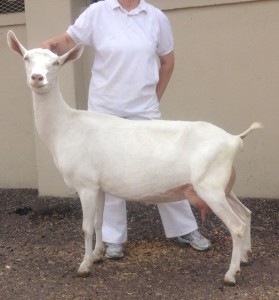 Jenny is a tall, long, and extremely correct doe.  She has a securely attached udder with a high rear, strong lateral, and smooth fore.  Jenny is very productive.
Show Wins
* 1 GCH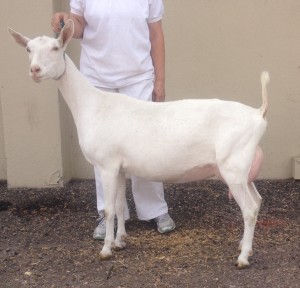 Mega-Milkers Standing Ovation
Ovation is a super long and level doe with a lovely mammary.  She has a smooth fore with a high wide rear udder.  Ovation has excellent udder texture and beautiful shape.
Show Wins
* 1 GCH
* 1 RGCH