GCH Mega-Milkers Design's Comedy 11*M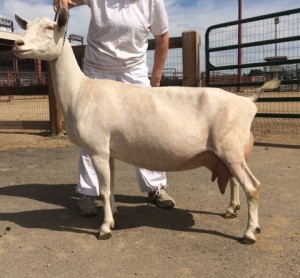 Comedy is extremely beautiful and also productive.  She has a feminine style coupled with dairy strength and body capacity.  She has a long, smooth fore udder and a very high wide rear.  She also stands on strong and correct feet and legs.
Show Wins
* 4 BOB
* 3 GCH
* 4 RGCH
* 2016 LA 91 EEEE
  GCH Mega-Milkers Bravo Condeleesa 10*M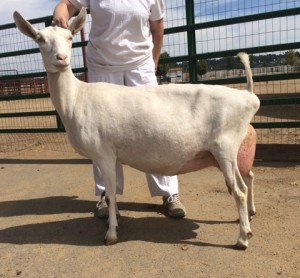 Condeleesa has a large capacious udder that has a very pleasing shape and extreme height in the rear udder.  Condi is dairy and open thoughout.  She has a level topline.
Show Wins
* 6 GCH
* 1 BOB
* 1 RGCH
* 1 BUIS
* 2016 LA 90 VEEE
SGCH Mega-Milkers Cotton Jenny 9*M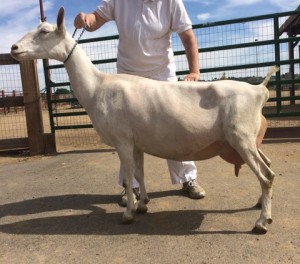 Jenny is a tall, long, and extremely correct doe.  She has a securely attached udder with a high rear, strong lateral, and smooth fore.  Jenny is very productive.
Show Wins
* 4 GCH
* 1 RGCH
* 1 BIS
* 1 BUIS
* 2016 LA 90 EEEV
Mega-Milkers OP Comedy Romance 12*M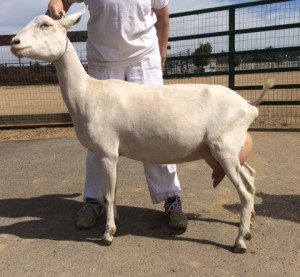 Romance has a super wide eschusion and a lovely Saanen head.  She has an extremely correct mammary and body capacity.  Romance is a growthy yearling with a great deal of milk.
Show Wins
* 2016 LA 85 VVV+
Mega-Milkers Isle of Intensity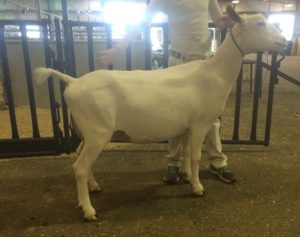 Intensity is a two year old first freshening, who like Jenny began milking without ever kidding as a yearling.  Needless to say she has a strong willingness to milk and is extremely productive.  Intensity earned her dry leg at her first show out, also winning best junior doe in show.  After that she began producing milk so she showed in the milking yearling class and placed very well for having a precocious udder.
Show Wins
*1 GCH
*1 BIS
* 2016 LA V+VV
Mega-Milkers Isle of Cheers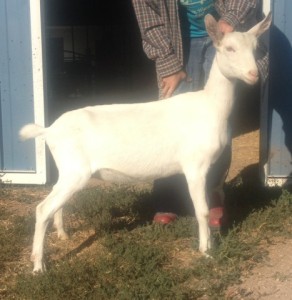 Dam: Mega-Milkers Standing Ovation
Sire: Mega-Milkers Isle of Arcadia
Cheers is a smooth, elegant doe out of an outstanding doe who unfortunately passed away.  Cheers got her dry leg as a yearling at the first show of the season.
Show Wins
*1 GCH
* 2016 LA VVVV