GCH Mega-Milkers Bravo Condeleesa 10*M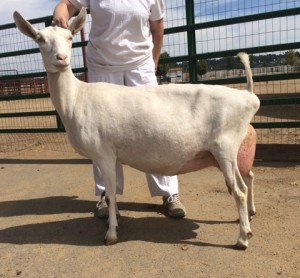 Condeleesa has a large capacious udder that has a very pleasing shape and extreme height in the rear udder.  Condi is dairy and open thoughout.  She has a level topline.
Show Wins
* 7 GCH
* 4 BOB
* 2 RGCH
* 1 BUIS
* 2016 LA 90 VEEE
* 2018 LA 90 VEEE
SGCH Mega-Milkers Cotton Jenny 9*M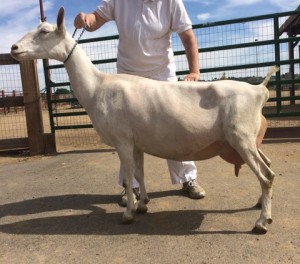 Jenny is a tall, long, and extremely correct doe.  She has a securely attached udder with a high rear, strong lateral, and smooth fore.  Jenny is very productive.
Show Wins
* 6 GCH
* 3 BOB
* 3 RGCH
* 2 BIS
* 3 BUIS
* 2016 LA 90 EEEV
* 2018 LA 90 VEEV
Mega-Milkers OP Comedy Romance 12*M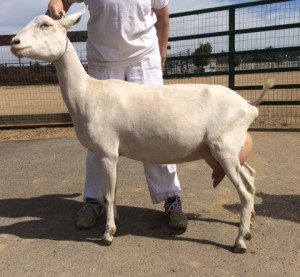 Romance has a super wide eschusion and a lovely Saanen head.  She has an extremely correct mammary and body capacity.  Romance is a growthy yearling with a great deal of milk.
Show Wins
* 2016 LA 85 VVV+
* 2018 LA 88 VEEV
Mega-Milkers Isle of Intensity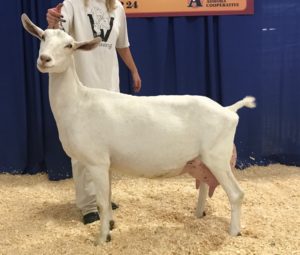 Intensity is a two year old first freshening, who finished her Championship at her first show in 2017.  She has a large and capacious mammary with a powerful smooth body.
Show Wins
* 6 GCH
* 1 BIS
* 1 BUIS
* 2 BOB
* 1 RGCH
* 2016 LA V+VV
* 2018 LA VEEE 91