Fermata is extremely dairy and angular with a very productive mammary.  She exhibits a long level back and wide flat hips.
DHIR Milk Records
1 year old 2070


2 year old 1600
Show Wins
* 2012 LA 89 EEEV
* 2014 LA 89 EEEV
* 4 RGCH, 2 GCH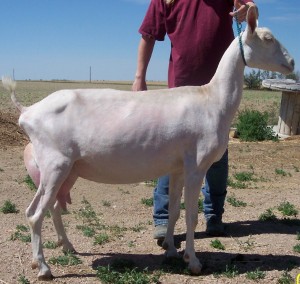 Mega-Milkers Petticoat Junction – SOLD
Petticoat is a refined, dairy doe showing length and angularity.  Petticoat brings together the capacious udder from her sire and the deep, long body of her dam.  Petticoat is our most productive doe.
Show Wins
* 2012 LA 84 +V+V
* 2014 LA 82 +EVA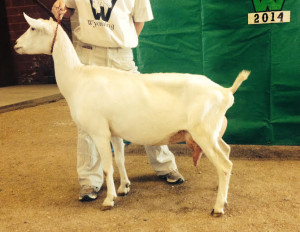 Mega-Milkers Design's Comedy
Comedy has an extremely correct mammary.  She has a lovely long, smooth fore udder and a very high wide rear.  Comedy has great body capacity.
Show Wins
* 2 RGCH
* 2014 LA 85 ++VV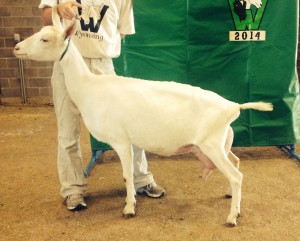 Mega-Milkers Bravo Condeleesa
 Condeleesa has a large capacious udder that has a very pleasing shape.  Condi has a long body with wide, level hips.
Show Wins
* 2014 LA 86 VE+V
* 1 RGCH, 1 GCH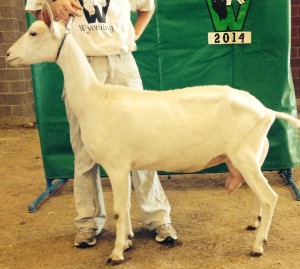 Applause has a high, wide rear udder with great angulation.  She exhibits sharp, smooth shoulders and strong feet and legs.
Show Wins
*2014 LA 83 VV++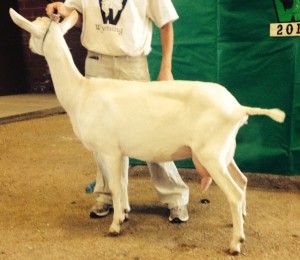 Coda has great breed character and a lovely mammary. She is long and level.
Show Wins
* 2014 LA 82 +VV+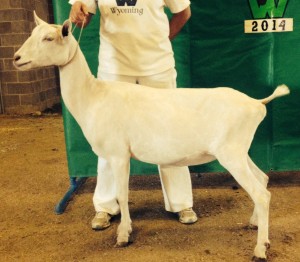 Sire: GCH Mega-Milkers Cockeyed Optimus
Dam: SGCH The Mega-Milkers Sugar Shack
Jenny is our last kid out of Sugar Shack before she passed away.  Jenny came to us late in the year but she has been well worth the wait.  Jenny takes after her dam with gorgeous breed character.  Optimus has thrown great milk production so we expect Jenny to follow in that trend.
Show Wins
* 1 GCH