TAKING ORDERS FOR 2015
Please call or email for more information
FEBRUARY KIDS:
Lola & Augie – 3 does
                           3 SOLD
MARCH KIDS:
Comedy & Optimus – 1 doe, 1 buck
                                       1 RETAINED – 1 buckling available
Showdown & Augie – 2 bucks
Lunesta & Augie – 2 does
                                 2 SOLD
Latisse & Isaac – 2 bucks, 1 doe
                               1 RETAINED, 2 bucklings available
Fermata & Arabas – 1 buck
                                     1 SOLD
Ticket & Quasar – 2 bucks, 2 does
                                 3 SOLD – 1 buckling available
Kids retained in 2014
Mega-Milkers Comedy's Adventure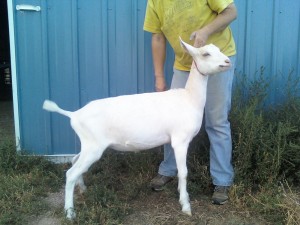 Adventure is another gorgeous Bravo daughter and we are excited to have her in our herd.
Dam: Mega-Milkers Design Comedy
Sire: Ranea Bravo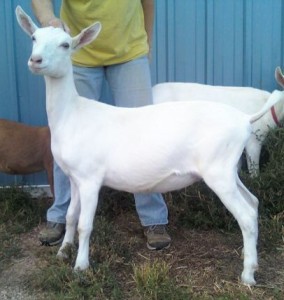 Mega-Milkers Standing Ovation
Ovation was not a doe we planned to keep out of a first freshening yearling but when she came out we knew she was something special.  Ovation is extremely long and dairy just like her dam.
Dam: Mega-Milkers Bravo Applause
Sire: Mega-Milkers Cadance
Mega-Milkers Look an Ice Cube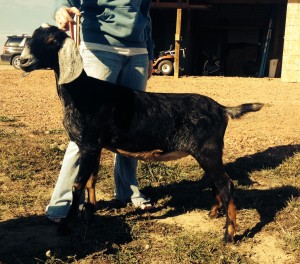 Cube is a long, tall kid with a lovely Nubian head.  She looks like a copy of her wonderful dam and we are excited to see a daughter out of Isaac. G6S Normal
Dam: Mega-Milkers Mariska Lunesta
Sire: Mega-Milkers Classic Good Look
Mega-Milkers Raffle Ticket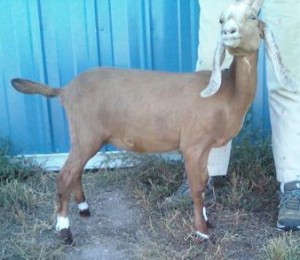 Raffle is a flashy young kid born in May.  She has a lovely Nubian head with a deep body and great feet and legs.  Raffle has good dairy character and a sweet personality. G6S Normal
Dam: Mega-Milkers Golden Ticket
Sire: Mega-Milkers Classic Good Look